Unveiling: UHI Group's State-of-the-Art Headquarters: Pioneering the Future of Low Volume Robotic Vehicle Assembly

I am thrilled to share an exciting milestone in the journey of UHI Group, and I couldn't be prouder to introduce our new headquarters facility! Nestled in the heart of the Motor City's Golden Corridor, our cutting-edge facility is set to redefine the standards in vehicle assembly and manufacturing, showcasing advanced technology, innovation, and a commitment to sustainability.
A Glimpse of Excellence
At UHI Group, we have always strived for excellence. Our new headquarters is not just a building; it's a testament to our dedication to pushing the boundaries of what's possible in the world of vehicle assembly. This facility combines state-of-the-art technology with a commitment to sustainability, setting a new standard in the industry.
Robotic Vehicle Body Assembly
One of the most exciting features of our new headquarters is our adaptable full robotic vehicle body assembly capability. We have invested in cutting-edge adaptable robotics technology to streamline and enhance our assembly processes. Bringing this amount of technology into the equation early in the prototype process shortcuts production development and drives downstream efficiency. These robots work seamlessly together with our skilled workforce to ensure precision, consistency, and efficiency in every step of vehicle assembly. This means faster assembly times, consistency, fewer errors, and ultimately, better vehicles for our customers.
Inventory Management
Flawless inventory management is the key to a successful build event. With every vehicle being made of hundreds of parts and even more fasteners, a robust inventory system is paramount.  Whether it is a made in house part or customer supplied, our inventory is tracked live using our PLEX ERP system and validated with consistent audits. All sub-assemblies are kitted to pre-identified assembly cells and re-assigned to primary assembly cells once completed.
ATOS 5 Scan Box Technology
Quality is at the core of what we do, and our commitment to delivering flawless vehicles is unwavering. To achieve this, we have incorporated ATOS 5 Scan Box Technology into our assembly process. This 3D scanning technology allows us to quickly inspect an entire vehicle's key features, ensuring that it meets our stringent quality standards. With the ATOS 5, we can quickly identify any irregular trends, guaranteeing that every vehicle leaving our facility is well within specifications.
Robotic Fastener Installation
Fasteners play a critical role in vehicle assembly, and precision is paramount. At UHI Group, we understand this, and that's why we have invested in a wide range of robotic fastener installation capabilities. From Self-Piercing Rivets (SPRs) to drawn arc studs and Flow Drill Screws (FDS), our robots can expertly install these fasteners with unmatched precision and speed. This not only enhances the structural integrity of our vehicles but also significantly reduces assembly time.
Large Capacity Aluminum Assembly
Aluminum has become a favored material in vehicle construction due to its lightweight yet durable properties. To meet the growing demand for aluminum-based vehicles, we have equipped our facility with large capacity aluminum assembly capabilities. Whether it is SPR's, adhesives, RSW's or a combination of them. Our team of skilled welders and state-of-the-art equipment can handle even the most complex aluminum assemblies, ensuring the results are accurate and fully validated.
Sustainability at the Core
Our commitment to sustainability is evident in every aspect of our new 6S certified headquarters. From energy-efficient lighting systems to waste reduction initiatives, we are dedicated to minimizing our environmental footprint. We have also implemented recycling programs and eco-friendly materials wherever possible, ensuring that our facility aligns with our vision of a greener, more sustainable future.
A Glimpse Inside
Now, let's take a virtual tour of our remarkable headquarters:
UHI Group HQ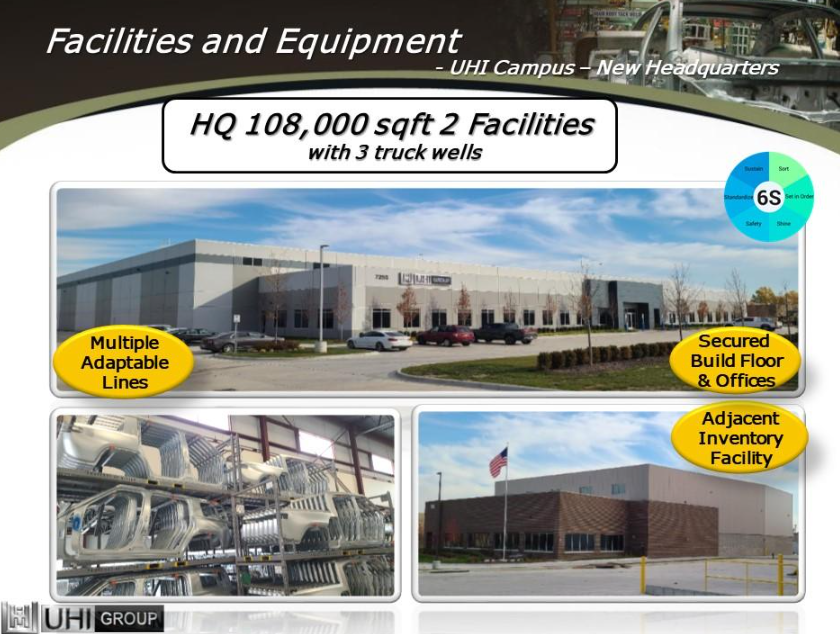 Robotic Vehicle Assembly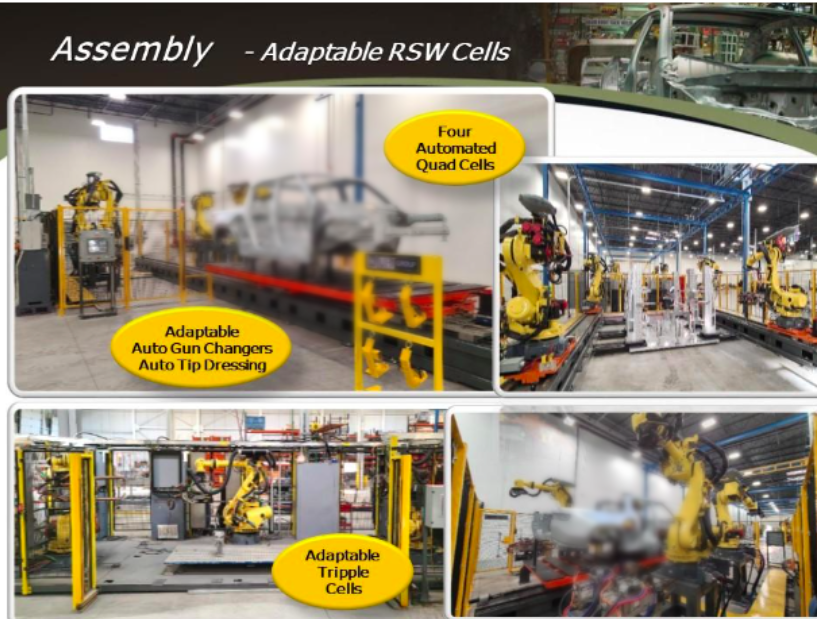 Inspection: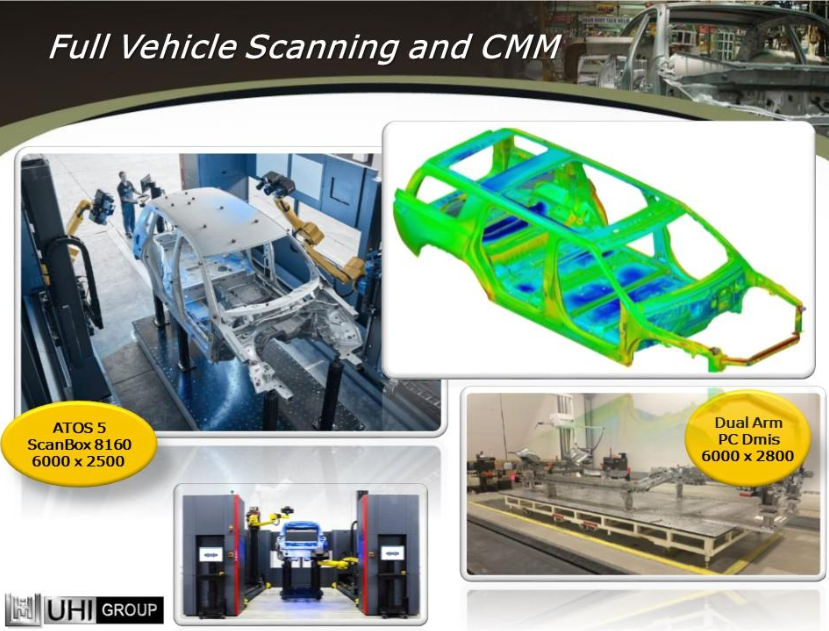 Precision Robotic Fastener Installation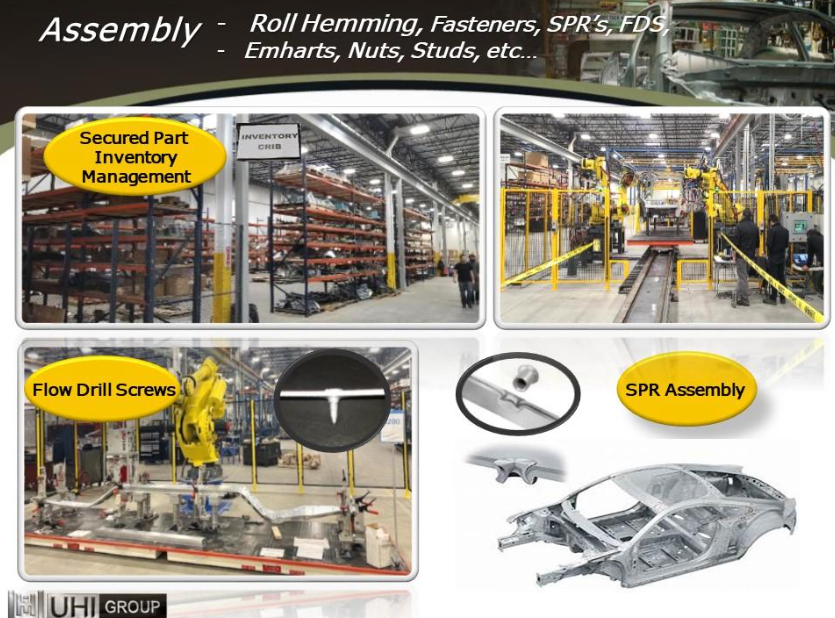 Join Us in Shaping the Future
At UHI Group, we are not just building vehicles; we are shaping the future of transportation. Our new headquarters facility represents a leap forward in innovation, efficiency, and sustainability. We invite you to be a part of our journey, whatever stage your program is in, our team stands poised and ready to pick up the ball and move it forward.
As we move forward, our commitment remains the same: to deliver vehicles of the highest quality, to innovate relentlessly, and to leave a positive impact on our planet. Join us in this exciting chapter, as we continue to drive progress in the automotive industry.
Thank you for being a part of the UHI Group family. Together, we are pioneering the future of robotic vehicle assembly.
About UHI Group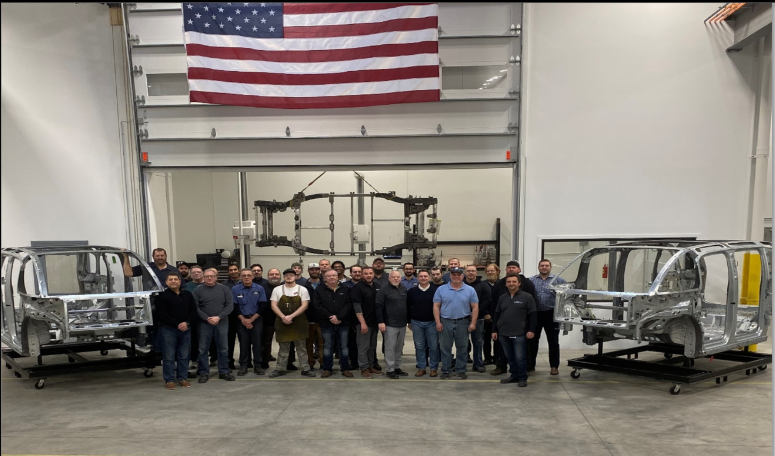 UHI Group is a leading automotive manufacturer dedicated to producing high-quality vehicles using state-of-the-art technology and sustainable practices. With a commitment to innovation and excellence, UHI Group is redefining the standards in the automotive industry. Visit our website here to learn more about our products and our mission to shape the future of transportation.